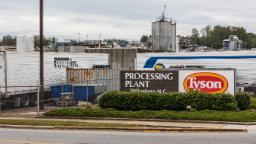 Tyson
(

TSN

)
said Wednesday that a majority of employees with coronavirus were asymptomatic and otherwise would not have been identified as having Covid-19 had they not been tested. Tyson said most of the tests were conducted on site between May 6 and May 9.
Tyson didn't close the Wilkesboro plant — President Donald Trump signed an executive order that compels plants to remain open during the coronavirus pandemic.
Instead, Tyson said it carried out "additional deep cleaning" in mid-May with limited operations. Production has ramped up since the cleaning, the company said. Sick employees will receive paid leave and can return to work when they meet "criteria established by both the CDC and Tyson."
Meat-processing plant workers have raised concerns about Trump's executive order. Meat plant employees are among America's most vulnerable workers, and some say they expect staff will refuse to come to work.
Thousands of Tyson Foods meat processing plant workers across the US have tested positive for Covid-19, and several have died. The company has had to shut down more than half a dozen plants for various periods of time due to outbreaks. More than 1,000 of the employees at the recently reopened Tyson pork processing plant in Waterloo, Iowa, tested positive for the virus.
The closures have led to meat shortage forecasts and purchase limits at some grocery store chains.
Tyson said it's prioritizing plants located in places with large number of cases for testing and other on-site assistance. The Wilkesboro plant, located in Wilkes County, North Carolina, is one of the hardest-hit counties in the state per captia, with 659 cases per 100,000 residents, according to CNN's count.
Tyson recently implemented wellness health screenings on plant employees when they arrive for work each day and requiring employees to wear masks or a face covering, which the company said it is providing.
Source link